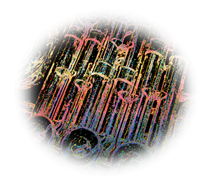 Hypnos is a piece I composed for horn quartet.
It is divided in 2 acts and lasts 11 minutes.
The story behind Hypnos :
Hypnos takes the listener into the mind of a sleeper to experience his journey into the realm of dreams. From bedtime, we follow him making his way through this world where dreams and nightmares constantly intertwine. At one point he suddenly wakes up in the middle of the night, gasping for air, frightened by his last oneiric encounter. Rain is pouring down heavily on the roof. He goes back into sleep. We finally witness our sleeper fighting to master his dreams and succeeding in it, ultimately gaining total lucidity.
Hypnos is available at the Store in 2 formats :
– Sheet Music Pack : MP3 + Full sheet music ( score and separate parts )
– Full Pack : MP3 + Full Sheet Music + Backing Tracks MP3s*

(*The backing tracks make it possible to play any part of the piece alone
while the other 3 are being played at the same time !)
Here's a video trailer where the entire Act II can be heard :
Act II performed by the Hornet Quartet from Poland
Act II performed by the Viersome Quartet from Oklahoma State University